News Release, World Mitochondria Society, Berlin - Germany – June 30, 2022
Mitochondrial deficiency is a known pathology in sepsis-induced organ failure. Qun Sophia Zang and the team had previously reported that the mitochondria-associated membranes (MAMs), a subcellular domain supporting mitochondrial status, are impaired in the heart during endotoxemia, suggesting a mechanism of mitochondrial damage occurred in sepsis. Mitophagy pathway via E3 ubiquitin ligase Parkin and PTEN-induced kinase 1 (PINK1) controls mitochondrial quality. Studies described here examined the impact of Parkin on cardiac MAMs and endotoxemia-induced cardiomyopathy. Additionally, point mutation W403A in Parkin was previously identified as a constitutively active mutation in vitro. In vivo effects of forced expression of this mutation were evaluated in the endotoxemia model.
In this study, mice of wild type (WT), Parkin-deficiency (Park2 −/− ), and knock-in expression of Parkin W402A (human Parkin W403A) were given lipopolysaccharide (LPS) challenge. Cardiac function was evaluated by echocardiography. In the harvested heart tissue, MAM fractions were isolated by ultracentrifugation, and their amount and function were quantified. Ultrastructure of MAMs and mitochondria was examined by electron microscopy. Mitochondrial respiratory activities were measured by enzyme assays. Myocardial inflammation was estimated by levels of pro-inflammatory cytokine IL-6. Myocardial mitophagy was assessed by levels of mitophagy factors associated with mitochondria and degrees of mitochondria-lysosome co-localization. Parkin activation, signified by phosphorylation on serine 65 of Parkin, was also evaluated.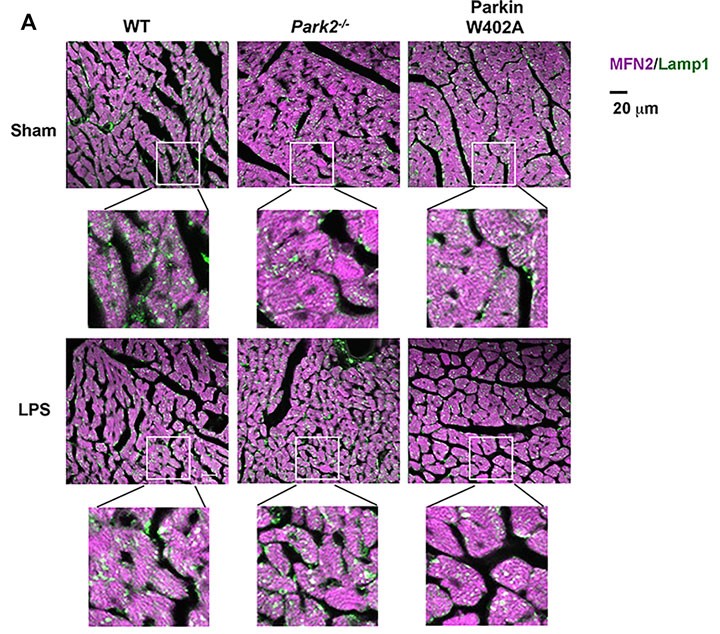 Heart tissue sections were co-stained with antibodies against lysosomal marker Lamp1 (green) and mitochondrial marker Mfn2 (purple). Colors in white and pale green are resulted from co-localization of the two markers.
Compared with WT, Park2 −/− mice showed more severely impaired cardiac MAMs during endotoxemia, characterized by disrupted structure, reduced quantity, and weakened transporting function. Endotoxemia-induced cardiomyopathy was intensified in Park2 −/− mice, shown by worsened cardiac contractility and higher production of IL-6. Mitochondria from the Park2 −/− hearts were more deteriorated, indicated by losses in both structural integrity and respiration function. Unexpectedly, mice carrying Parkin W402A showed similar levels of cardiomyopathy and mitochondrial damage when compared with their WT counterparts. Further, Parkin W402A mutation neither enhanced mitophagy nor increased Parkin activation in myocardium under the challenge of endotoxemia.
As suggested by the results, Parkin/PINK1 mitophagy participates in the regulation of cardiac MAMs during endotoxemia. Point mutation W402A (human W403A) in Parkin is not sufficient to alleviate cardiomyopathy induced by endotoxemia in vivo.
Join us at Targeting Mitochondria 2022 and benefit from the experience of Dr. Qun Sophia Zang in this field. Early Registration.
---
Media contact:
World Mitochondria Society
This email address is being protected from spambots. You need JavaScript enabled to view it.
+33-1-5504-7755
---
Targeting Mitochondria 2022 Congress
October 26-28, 2022 - Berlin, Germany
wms-site.com