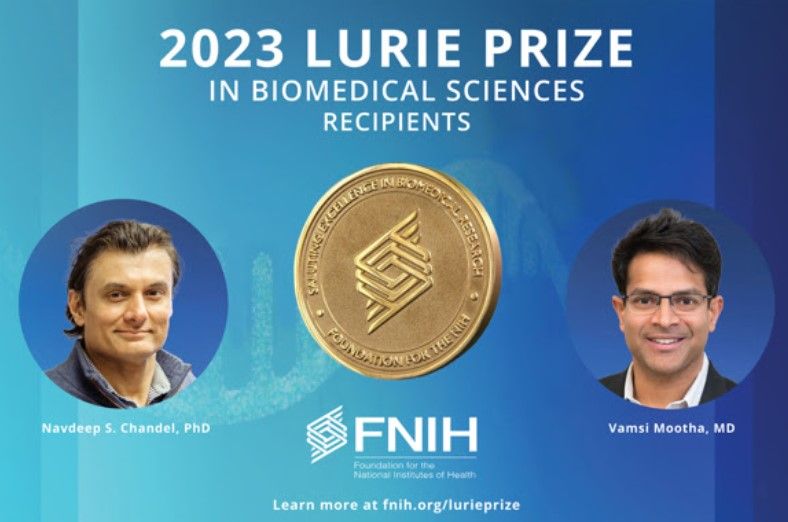 With great admiration, the WMS would like to extend its most sincere and heartfelt congratulations to Navdeep S. Chandel, Ph.D., and Vamsi Mootha, MD. Their relentless dedication and pioneering research in the field of mitochondrial science have not only advanced our understanding of this vital area but have also garnered them the honor of being named the recipients of the highly prestigious 2023 Lurie Prize in Biomedical Sciences.
Each of Dr. Chandel and Dr. Mootha has made important and distinct discoveries in the field of mitochondrial science by exploring the characteristics and functions of mitochondria in human physiology and disease.
Dr. Navdeep Chandel is the David W. Cugell Professor of Medicine, Biochemistry, and Molecular Genetics at Northwestern University Feinberg School of Medicine. The Chandel research team has shown that mitochondria do much more than supply energy to cells. His research team has revealed how mitochondria function as signaling organelles that control the body's normal functions and impact diseases, including cancer and inflammation.
Dr. Vamsi Mootha is an investigator of the Howard Hughes Medical Institute, investigator in the Department of Molecular Biology at Massachusetts General Hospital, a member of the Broad Institute of MIT and Harvard, and a professor of Systems Biology and Medicine at Harvard Medical School. His laboratory team combines genomics and computation with classic biochemistry and physiology to gain a holistic view of the genes and proteins relevant to mitochondrial function. Although mitochondria contain their own DNA that encodes just 13 proteins, the Mootha research team has identified the other 99% of mitochondrial proteins encoded by nuclear DNA and compiled their findings in a widely used reference tool used to discover new protein functions and disease genes.
The impact of their work will undoubtedly resonate throughout the scientific community and beyond for years to come.
Source: FNIH Press Release
---
Media contact:
World Mitochondria Society
This email address is being protected from spambots. You need JavaScript enabled to view it.

---
Targeting Mitochondria 2023 Congress
October 11-13, 2023 - Berlin, Germany
wms-site.com