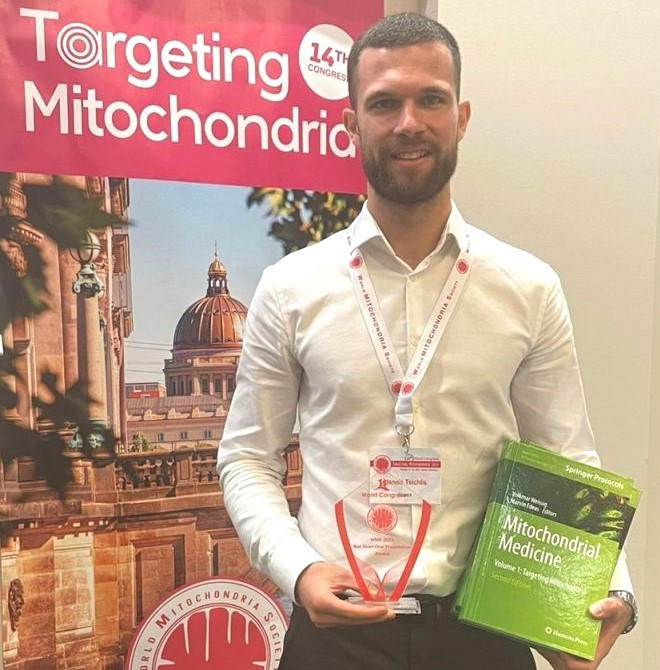 Targeting Mitochondria 2023 Best Short Oral Presentation Award #1
The World Mitochondria Society congratulate Dr. Ioannis Tsichlis from the National & Kapodistrian University of Athens, Greece, for earning the Best Short Oral Presentation award at Targeting Mitochondria 2023.

Dr. Tsichlis's profound talk, titled "Development of Mitochondria-Inspired Lipopolyplexes for Gene Delivery," was a deep dive into the cutting-edge realm of gene therapy.
He presented a novel mitochondrial-inspired nanosystem, which incorporated the properties of mitochondria into hybrid lipopolyplexes. These meticulously crafted structures are geared towards efficient gene delivery, offering a potential leap in therapeutic interventions. Particularly noteworthy was their remarkable stability across various media, an essential characteristic for real-world applications.
His talk was a testament to his dedication and innovative approach in the field of targeting mitochondria.
Dr. Tsichlis shared with the World Mitochondria Society: "Following the successful development of mitochondria-inspired lipopolyplexes, our research involves in vitro cytotoxicity studies and in vivo biological experiments in the well-established C. elegans model to evaluate the specificity and efficiency of the nanoplatform in targeting mitochondria. The ultimate goal is to develop a safe and effective bio-inspired gene delivery nanoplatform that will contribute to mitochondrial gene therapy."
All our congratulations.
---
Targeting Mitochondria 2023 Congress
October 11-13, 2023 - Berlin, Germany
wms-site.com